$1Billion In Bitcoin Liquidations
Coincidence With the UK Newly PM elect.
Future of Bitcoin
Bitcoin is by far the largest cryptocurrency in terms of market capitalization, and what all of this essentially means is that its price movements and overall value can affect the entire crypto space. In fact, the bear market has affected Decentralized Finance (DeFi) as a whole.
Data from TradingView showcased that the BTC/USD is trading at a value of $20,275.93 as of November 3. 2022.
However, the analysis we are currently looking at occurred from the span of October 25 to October 26.
Based on data from analytics resource Coinglass, Bitcoin alone accounted for $550 million in liquidation within the span of the 24 hours between those dates. In fact, $704 million in cross-crypto shorts were liquidated in October. 25, with the October 26 performance being at $275 million. Here we can see that the total was over $1 billion liquidated.
When we look at the data on November 3, 2022, the total liquidated in the past 24 hours is at $165.51 million.
This has piqued a question in the minds of a lot of investors, who are thinking that this might be the end of the bear market.
However, another huge development occurred within the United Kingdom, which could have contributed to this.
Bitcoin Liquidations & Rishi Sunak Became The United Kingdom's New Prime Minister
On October 25, 2022, Rishi Sunak was appointed as the prime minister of the United Kingdom after meeting with King Charles III at Buckingham Palace. Sunak was a former treasury chief and the country's third premier within the span of the last two months. He is also the youngest leader since 1812 and the first person of color to serve in this role.
Furthermore, Sunak is of Indian heritage and Hindu faith.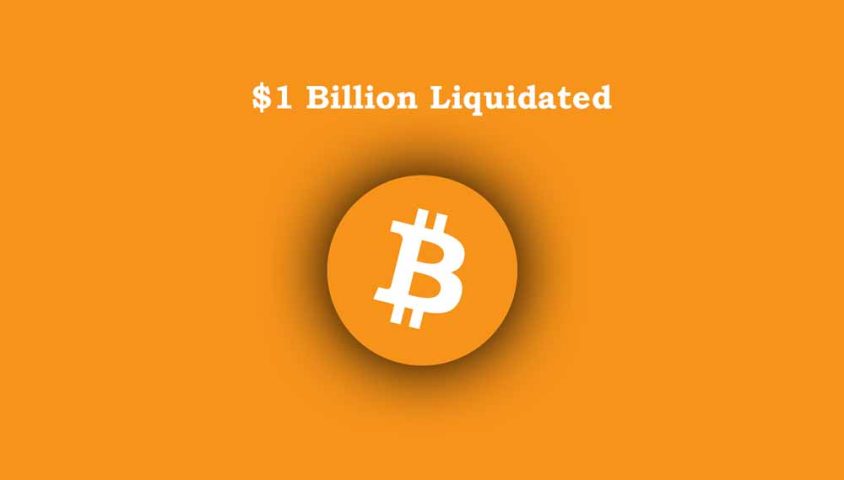 This is important due to the fact that he is heavily seen as an ally for Bitcoin (BTC) and cryptocurrencies as a whole. Sunak's younger age, as well as his Stanford pedigree, makes many feel as though this is a person that is fully open to the implementation of new technologies, such as blockchain technology.
As the Finance Minister, Sunak has pushed for pro-cryptocurrency legislation that is tangible and even supported the "Financial Services And Markets Bill," which is widely seen as cryptocurrency-friendly, and this is the case due to the fact that it pushes for an increased acceptance of stablecoins.
Alongside this, there are genuine competitive advantages when it comes to Sunak supporting crypto, as the United Kingdom can capitalize on cryptocurrencies while there is uncertainty about future laws of crypto in other countries.
Additionally, the United Kingdom is also facing a deficit problem, where the nation needs a new solution, and this solution could be in the form of Bitcoin (BTC), but keep in mind that nothing official has been said thus far.
Note that when we look at the United Kingdom historically, it is important to note that The Financial Conduct Authority has been criticized due to its slow approval for licenses regarding crypto firms, and this has ultimately been an issue that has caused numerous companies to wind down and move their company towards another region in Europe. Fintech application Revolut managed to only recently get a license for its crypto entity, after numerous extensions to the deadline, prior to finalizing the overall approvals.
So, was the liquidation of Bitcoin a coincidence with the election of this new Prime Minister in the United Kingdom, or is there more to it?
Can Bitcoin Jump In Value as a result of Bitcoin Liquidations?
To get a perspective of the recent performance of Bitcoin as a cryptocurrency, we will be going over multiple value points as well as its overall performance within the past week.
Additionally, we will be comparing its value to its all-time high, so let's dive in.
Based on the data from the independent cryptocurrency data aggregator known as CoinGecko, we can see that the all-time high of the Bitcoin (BTC) cryptocurrency occurred on November 10, 2021, at a value of $69,044.77.
Source: CoinGecko
Furthermore, we can see that the 7-day performance of the cryptocurrency was summarized in two points. The low point was at $20,064.63, while the high point was at $20,924.82. This gives us a clear perspective as to how much of a price difference the BTC cryptocurrency has experienced within the span of a single week and what we can expect from it moving forward. Here we can see that there is a difference in the value of $860.19 or by 4.29% from the lowest point of value to the highest point of value.
As we established above, based on the TradingView chart, BTC is trading at $20,275.93. At its all-time high, Bitcoin was trading $48,768.84 higher in value. This means that the cryptocurrency is now 70.7% lower in value.
On October 26, at the time of the initial liquidations, BTC was trading at $20,700. What this showcases is that Bitcoin might not be out of the water yet and that the bear market has not yet ended, as BTC is trading under that point of value a week later, but the fact that it has broken past the $20,000 is a sign of a potentially billish future.
In any case, sentiment is strong surrounding the future of Bitcoin as more and more countries have begun adopting the cryptocurrency in some way, and younger Prime Ministers are gearing up to potentially introduce legislations that could pave the way for its adoption.
Moving Forward With Bitcoin
Bitcoin has left a huge mark both within the crypto space, as well as the broader adoption of cryptocurrencies. Any time adoption rates of cryptocurrencies get discussed, analysts look at Bitcoin.
Every time a new service begins accepting cryptocurrency payments, Bitcoin is the coin that is selected to get added first.
Its heavy influence over the crypto sphere is always felt and always present. While Rishi Sunak's timing was impeccable when it comes to the $1 billion being liquidated within the BTC markets, it is clear that this has spiked interest within the crypto space.
In any case, what we can learn and gain from all of this is that the crypto community is as enthusiastic as ever and that we will see a higher level of adoption when it comes to the adoption, acceptance, and regulation of cryptocurrency.
The cryptocurrency bear market cannot be permanent, and historically, Bitcoin, as well as other major cryptocurrencies, have managed to jump back from it and reach new heights, so this is just another chapter of the crypto story. We will eventually see the end of the 2022 Crypto Winter.