19% of Americans have never heard of, or don't know what cryptocurrency is.
Just 5% of Americans correctly valued one bitcoin ($15,000 – $20,000).
20% thought 1 Bitcoin could be bought for less than $100.
40% of men understand how cryptocurrencies work compared to just 17% of women.
New market research has revealed that as the price of one bitcoin is now just below an all-time high ($36906.40), almost a quarter of Americans (22%) have still never heard of the currency.The research found that men were more aware of cryptocurrencies in general – only 12% of men had never heard of any cryptocurrency at all, compared to 25% of women.While men may be more aware of cryptocurrencies, neither group had an accurate idea when it came to the cost of bitcoin. Just 5% of Americans accurately guessed the current price of one bitcoin ($15,000 – $20,000), and 20% thought one bitcoin could be purchased for less than $100.
Leading bitcoin exchange platform Xcoins surveyed thousands of Americans of all ages to better understand the public perception of cryptocurrency and found a huge disparity in attitudes and understanding across the country.
It may come as no surprise that the westernmost states had a better awareness of bitcoin and more accurately decided the current market price compared to other regions, with the likes of Silicon Valley, based in California. On average participants valued bitcoin more than $2,000 higher than those in the midwest ($7,944 vs $5,653)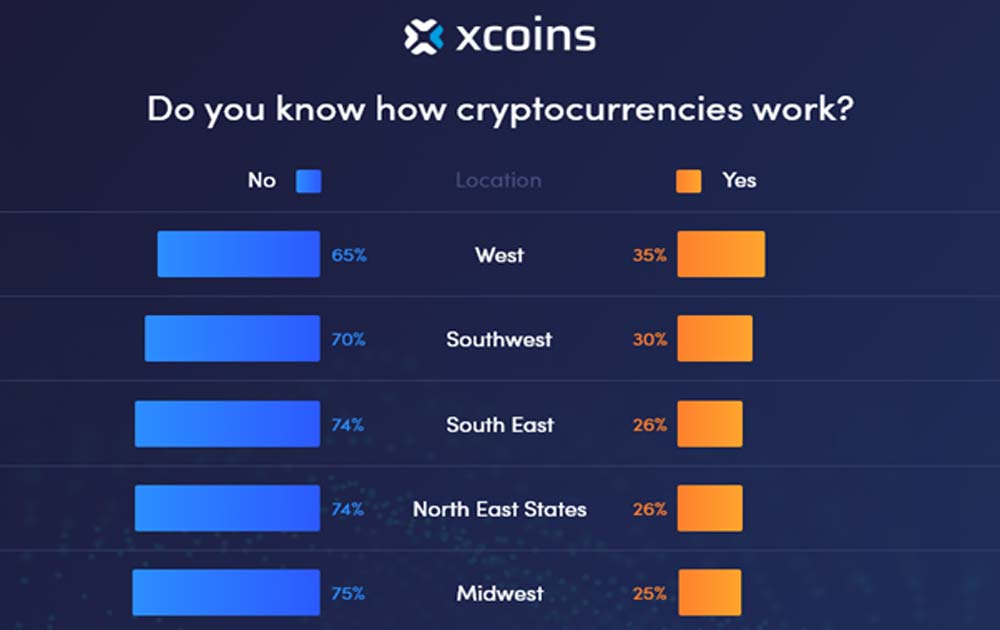 Yet, even though the majority of those surveyed can see bitcoin more than doubling in value over the next decade, 48% don't want to invest in it.50% of those surveyed in the west reported a lack of knowledge around cryptocurrencies leading to feelings of mistrust.Texas, in particular, had the most interesting disparity when it came to understanding the price of bitcoin. Houston valued one bitcoin the highest of any US city at $10,636, while Dallas valued it lower than any other US city at $4,148.
"The price of bitcoin has just reached a three-year high and is nearing the all-time record – but it seems it's still an unknown quantity for millions of Americans, with only a small number being able to predict the proper price of 1 bitcoin.
Our research shows that knowledge and trust of cryptocurrency varies across the States, and there's plenty of work to be done to educate Americans about the practicalities – and the value – of bitcoin."
Other interesting highlights of Xcoins' research found that:
While bitcoin is fairly well known, less than ¼ of respondents had heard of any other form of cryptocurrency
40% of men understand how cryptocurrencies work compared to just 17% of women
San Diego and Austin were the most likely cities to associate bitcoin with criminals (27% and 26%)
While those in the 55+ age bracket were most likely to not have heard of any cryptocurrency, they were also the most likely to believe cryptocurrency had a future (60%)
About Xcoins
Founded in 2016, Xcoins is a leading cryptocurrency exchange platform that lets you buy Bitcoin online securely using a Visa or MasterCard debit card or credit card. Since its inception, Xcoins has served customers from over 167 countries, helping them exchange more than $250 million in digital cash.Xcoins delivers cryptocurrencies including Bitcoin (BTC), Ethereum (ETH), Litecoin (LTC), Ripple (XRP), and Bitcoin Cash (BCH) within minutes. Its services cover the US and Europe and it's our mission to make the process of buying Bitcoin as smooth and frictionless as possible.