Key Highlights:
Polkadot Vs Chainlink: Understanding the similarities and differences between Polkadot and Chainlink;
Assessing the strengths and weaknesses of DOT and LINK,
Should one of these assets be considered over the other?
Considering how similar most cryptocurrency projects are these days, hard forks and copycats scattered across the plain, it can get tricky picking one over the other.
I'm However, despite the many similarities many crypto projects share, there are a few unique features that set these projects apart. Two such projects include Polkadot (DOT) and Chainlink (LINK); forerunners in the proliferation of Web3.
The question then becomes, which among these holds more superiority or originality to prompt investment interest?
A side note; though a recurring opinion, it cannot be overstated the importance of having a decent understanding of any financial instrument you have an investment interest in. Without further ado, let's get to it!
Polkadot vs Chainlink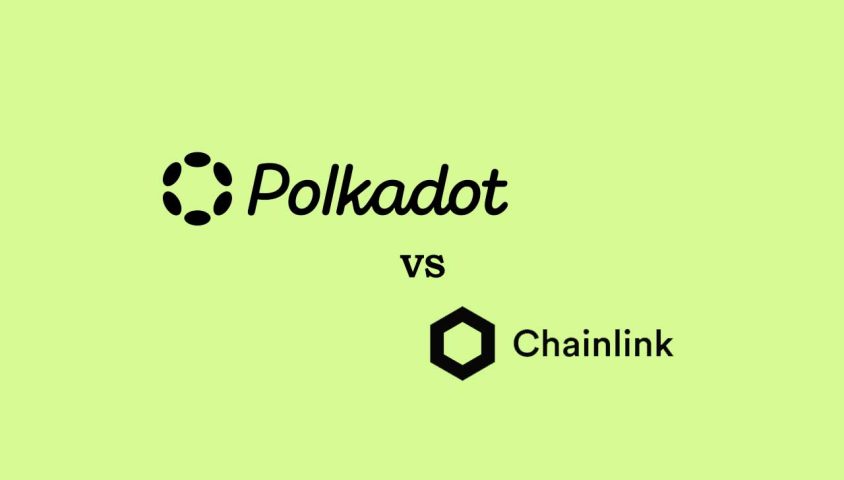 The Polkadot network aims to provide interoperability between different blockchains by enabling the transfer of data. One of the project's favorite mantras reads "any type of data across any type of blockchain."
That said, Chainlink shares an uncannily similar vision. This decentralized oracle network links Ethereum and Ether-based tokens to off-chain information sources to enable the usage of data stored in Ethereum's ecosystem by unrelated companies and services.
These similarities in visions have fostered relationships for both projects. In 2021, Chainlink data oracles began establishing connections with Polkadot's primary network, expanding the opportunities for app developers to create services and programs that integrate Chainlink and Polkadot features. You'll see that Chainlink, rather than Polkadot blockchains and networks, assumed a back-seat position in this situation.
It turns out that Polkadot runs a bigger, more ambitious system than Chainlink in this comparison. In the future, it could be feasible to change that dynamic, but it's difficult to envision how. As a result, Polkadot is essentially assured to continue being bigger and more significant than its counterpart in the Oracle network.
But in the developing field of decentralized finance, Chainlink has a special and important function (DeFi). Chainlink is a leader in advancing smart contracts' intelligence as a decentralized oracle network. Its introduction signaled the beginning of secure access to external market data for smart contracts and other DeFi apps. A lot of the heavy work is being done by Chainlink to enhance the capabilities of smart contracts, but when will it receive the capital appreciation it so richly deserves?
Meanwhile, unlike Chainlink, which is hosted on the Ethereum blockchain, Polkadot is in direct competition with Ethereum and aims to chip away at the dominance of Ethereum in the blockchain space.
To further buttress the differences between Polkadot and Chainlink, let us take a quick look at some of their strengths and weaknesses.
What Sets Polkadot Apart?
One of the Polkadot network's biggest advantages is its remarkably vibrant ecosystem. The network is host to numerous blockchain solution projects and welcomes new projects almost every week. As of November 2022, the Polkadot ecosystem had over 555 projects running on it.
Another strength of Polkadot is that developers build applications specific to the DOT framework with a shared security model. This strengthens uniformity across the network and eliminates the common problem of having to attract enough validators and miners to secure the chains.
Source: Cointelegraph
Polkadot's Shortcomings
As mentioned earlier, many crypto projects have similar properties and blockchain solutions they offer, and Polkadot is not insulated from this factor. As a result, it has a sizable number of Proof-of-Stake (PoS) competitors such as Cardano, Solana, and Tezos. 
Another shortcoming for DOT is that the availability of parachains is limited to 100, and parachain slots are distributed through auction, which is not the best option in most cases.
What Sets Chainlink Apart?
One of Chainlink's top selling points is its strategic partnerships with large industry players. Over the years, Chainlink has penned partnerships with companies such as Google Cloud, SmartContract, SWIFT, Binance, and even Polkadot.
Chainlink's oracles also allow for the creation of bridges between blockchains and off-chain data sources. This takes its interoperability game to a different level.
Source: Cointelegraph
Chainlink's Shortcomings
One of the biggest concerns for Chainlink is its perceived centralization. About 60% of LINK supply is controlled by its parent company. Not a good look for a decentralized entity.
Also, there's some work to be done about increasing the number of oracles on the network.
Final Verdict
The most important takeaway from this should be that Polkadot and Chainlink do not particularly compete with one another in the traditional sense. The success of either does not take away from the prospects of the other, and the two work together on several ends. As such, both blockchain projects can be considered smart investment options with decent potential ahead of them.
Speaking on the similarities between Polkadot and Chainlink, Marcus de Maria, the CEO of Investment Mastery and Your Crypto Club, said that both crypto projects aim at solving interoperability problems.
He explained: "Both try to create a world where all networks and blockchains can interact with each other and work together. You could call it the internet of tomorrow."
In de Maria's opinion, since both projects are bordered on solving similar problems, saying they compete with one another is an easy assumption to make but argued that they're often in collaboration. He said:
"The blockchain space is big enough for many players and if they work together, adoption will likely go even faster."
Also, both crypto assets have shared the same price fate in recent months. DOT and LINK are on the back foot in 2022, with both trading down at -71% and -68%, respectively, YTD.
Source: TradingView | DOT/USD – LINK/USD Daily Chart
However, structure-wise, Polkadot shows much more promise and offers more utility than Chainlink. DOT also comes on top as the most secure among the two, with the most interoperability features. Factors like these could prompt some to consider DOT above LINK.
That said, it bears mentioning again that it is advisable to conduct thorough research on any financial instrument you might be considering for investment.