On Tuesday, Binance signed a letter of intent to buy its own competitor, FTX, in a likely bailout of the FTX misery. But within 24 hours , that plan went south. A lot to digest in this period…….
Is Changpeng Zhao trying same bluff as elon musk?
What happens with the fate of FTX ?
Can FTX find a way out ?
Is Binance Going the route of FTX ?

The twitter message in Official Binance Twitter account read
As a result of corporate due diligence, as well as the latest news reports regarding mishandled customer funds and alleged US agency investigations, we have decided that we will not pursue the potential acquisition of http://FTX.com.

Binance Twitter
In the same context we gathered opinion from industry experts and here are some of the point of view on why Binance decided to walk away from the proposed deal.
Bradley Duke, Founder & co-CEO at ETC Group, said:
"The fact that Binance explicitly cites "mishandled customer funds" in their tweet explaining the decision to abandon their acquisition of FTX.com suggests, at a minimum, a lack of disclosure and transparency on the the part of FTX or worse, putting customer deposits at risk for business bets FTX was making."
"We will know the full truth in time but what is clear is that even some of the largest companies in crypto are failing to ring-fence and protect customer assets and give the requisite transparency about deposits in custody."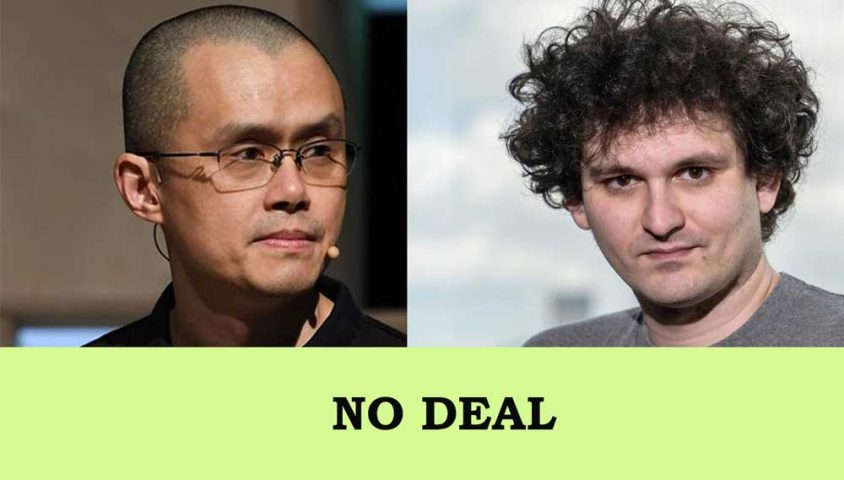 "At ETC Group, because of our trad-fi background, have always over engineered the product structuring of our ETPs and operational processes to ensure that the digital assets backing our ETPs are entirely segregated in enterprise custody, have an independent Trustee with a full pledge over the assets in case we were to cease trading, and a 3rd party administrator with a veto on operational movements of these assets and the responsibility of independently verifying the digital assets in custody as always exceeding ETC Group obligations to investors in its products."
"We did all this because we understand the importance of, first and foremost, protecting investors as there is nothing more important when operating in financial services."
"Our research team has been vocal about the importance of product structuring and transparency and how digital assets in custody should never be loaned without investors full knowledge – a practice which seems to be at the very heart of FTX's collapse."
Mikkel Morch, Chairman at ARK36, said
"With reports that FTX is facing investigations from the SEC, the CFTC, and the Department of Justice, yet another supposedly reputable and trusted industry player goes down as a huge disappointment, to put it mildly."
"Despite all the talk about the maturation of crypto, it seems like now more than ever the industry is due for some soul-searching."
"Yes, we all want to create value for our investors but even more so, we want to create a technological foundation for a more efficient and more equitable financial system. But if you leverage yourself up to your ears and take unnecessary and undisclosed risks with your customers' funds, you're bound to fail miserably on both counts."

"It is to be hoped that, moving forward, crypto will be less about making a quick buck and more about decentralisation, transparency, and integrity."
FTX Binance Deal Off : So Whats Next ?
"There are some positive changes happening already. Binance is pushing for major exchanges to adopt proof of reserves as an industry standard. Some have already started publishing it. Newcomers to the space are discovering the importance of self-custody of their assets. And investors are learning the hard way the advantages of working with properly regulated entities. These are the growing pains of a nascent industry – but crypto will come out of this stronger and more resilient than ever before."