Content marketing is changing and it is evident how content is foreseen now versus few years back. The social distancing business operations has been a catalyst to accelerate some innovations used in creation to publishing of content.Artificial Intelligence (AI) is on its way to unleashing the next wave of digital transformation; a wave that has been given a push due to COVID-19. By 2025, the retail market of AI is expected to reach $19.9 billion, assuming it doesn't cross that threshold earlier. 51% of marketers are already using AI to further their marketing strategies.In 2018, a study about the leading roles played by AI in marketing strategies yielded the following results.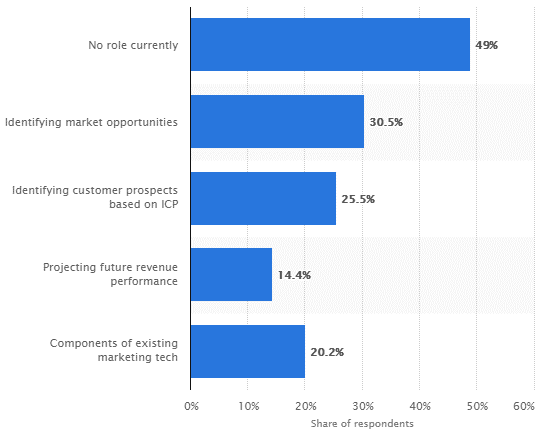 Source:Statista Since content marketing is one of the most effective digital marketing techniques,the graph above shows how AI has been used to enhance this form of marketing as well. Today, AI helps not just identify market opportunities or audiences, but also to enhance content.Whether your goal is to target a specific audience, perform SEO or write tailored emails for your audience, AI has been performing a wide range of activities for content marketers for quite a while now. This has helped marketers be more diligent about the type of content they produce and how they target who they target.More and more aspects of content marketing are being intelligently automated (to an extent) and tailored to customer experiences successfully.
AI Creating Content — Personalized or Hyper-Personalized?
The paragraph below is the beginning of a sports piece, written by AI (courtesy of New York Times).
"Things looked bleak for the Angels when they trailed by two runs in the ninth inning, but Los Angeles recovered thanks to a key single from Vladimir Guerrero to pull out a 7-6 victory over the Boston Red Sox at Fenway Park on Sunday."
A study by Christer Clerwall (Karlstad University, Sweden) suggested that identifying whether this was written by AI or a human author was mostly guesswork. As with any AI program, it needed some base data to be entered into the algorithm of course, but data entered was all in abstract form. AI came up with the opening on its own after that. There are several AI programs out there that can help you not just write, but also create other forms of content. But there is still the matter of the lack of a soul. Writing sports pieces is one thing, creating creative content is entirely another – and that is something AI still struggles with. Having said that, this makes the job of journalists relatively easier. By inserting a few elements into an algorithm, they can get an abstract to proofread and add some flair into.Then there's the matter of personalizing the content. By combining AI and ML (Machine Learning), AI is often more than aware of the type of content your audience prefers. AI-written content can therefore be personalized, but will still need to be polished a bit. However, the way content is consumed has changed over the past year. Staying at home, people consumed more content and have therefore become pickier. Consumers prefer hyper-personalized content now; content that speaks specifically to them.While AI can create personalized content, hyper-personalized content is something that it still struggles with (for now).
AI Identifying Opportunities – Content Profiling & Topic Inspiration
With so much data on the internet, writing something new has become extremely difficult. You can find multiple resources for almost everything these days; even if the topic is a few-minutes-fresh. Many marketers are now using AI to streamline their content creation process to not just help them identify opportunities, but also create content profiles.
Identifying Opportunities
By letting AI audit your website and your audiences, you can have it sift through the internet and other media channels for relevant topics and opportunities to create content before anyone else has a chance to do so. There is also the element of predictive analysis to help you get an idea of how your audience will react to a certain topic or form of content. This 'sentimental' analysis helps you discover new content ideas and topic clusters to follow. This is a great option for startup blogs and businesses.
Content Profiling for content marketing
Here, AI goes through your current content (blog posts, videos, podcasts and even web pages) to understand its performance, its impacts on customers and its depth. If any bit is underperforming, it will let you know so that you can improve or remove it. This is virtually the same concept as the one used to analyze businesses via Business Intelligence (BI).With this content profile, you get a bird's eye view of your content, effectively helping you understand what you're doing right and where you're lacking. The new opportunities, on the other hand, let you stay relevant not just for your audience, but also for search engines.
AI ( Artificial Intelligence) & Data-Driven Feedback
There are two types of feedback; one that your customers provide and the other that is based on your past experience.
AI Compiling Customer Feedback
Customer feedback reflects on your business directly; that much is no secret. The more you grow, the more feedback you'll get. The more feedback you get, the harder it is to keep track of what your customers want.Feedback from customers – especially on public platforms – has a major impact on your business. Here is a graph illustrating our point.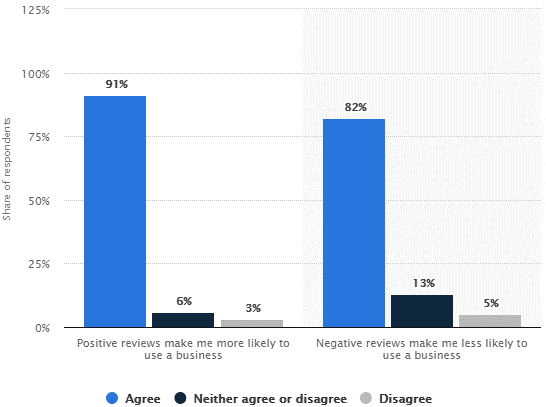 Source:Statista AI compiles feedback from different platforms, including comments on your content, to give you an overview of what you're doing right or wrong. Marketers often filter out remarks about the content they post to reshape their content marketing strategy accordingly.
AI Analyzing Past Content marketing Performance to Give YOU Feedback
Apart from understanding current content, another challenge that marketers often face is reviewing their past content's performance. It takes a lot of effort to look at every angle of your content and time is often not on marketers' side due to the volatile nature of the job. AI analyses all aspects of your past content to give you valuable data-driven feedback for your content strategy. This is called "content intelligence". The goal here is to combine content and business data to give you actionable insights into structuring and optimizing both aspects and tailoring yourself to audience perspectives and thought processes.
Content intelligence is a strategy that uses artificial intelligence systems and software to process content data into reliable insights about the effectiveness of a business' content.
When you look at customer and AI feedback together, you get a clearer picture of what needs to be done. Then, it's a simple matter of implementing what you learn from artificial intelligence.