On December 4, 2021, Bitcoin experienced a massive dip in price, with the coin value falling to the $41,000 price range. Despite repeated attempts to return to its previous price level, the price of Bitcoin continued to fall, and on January 22, 2022, the coin price had reached a six month low, with the price dropping below the $34,000 price range.In response to this gradual decline in Bitcoin's price value, many other crypto assets traded on crypto markets began to experience a dip in price. Numerous crypto investors speculated that the bear season was about to start due to this rapid decline.
However, instead of slumping further, Bitcoin and many other digital assets have begun to experience positive price movements over the past two weeks. Some investors have been speculating about this situation recently, which has caused many to wonder if cryptocurrencies are set for another bull run? We must state clearly that many crypto traders still believe that the most recent bull run has not ended despite a general drop in value for most cryptocurrencies. For these traders, the crypto markets are simply consolidating sideways.Several factors have contributed to the recent price increases in the crypto market, and this article examines them. However, we'll also review some of the most popular crypto assets and provide an update on their prices. In addition, we will discuss several factors that indicate that the bull market remains intact.
Crypto Markets: Factors Driving Recent Crypto Price Increases
Typically, other crypto-assets experience positive price increases when Bitcoin's value rises. In a similar vein, when Bitcoin experiences a drastic drop in value, the crypto markets are also negatively affected.
Therefore, we can safely conclude that Bitcoin's recent price increase has contributed heavily to the current price increases experienced in the crypto markets. Nevertheless, it would be useful to fully understand what caused Bitcoin's recent decline in value to determine the key factor behind the current rise of Bitcoin and altcoins.
Bitcoin's recent slump in value occurred as a result of policy changes by the US Federal Reserve. The newly enacted policies were designed to control inflation within the United States. However, those policies had a negative impact on the price of Bitcoin because they are designed to control risky assets.Additionally, these policy changes were created to ensure a fiscally conservative financial or economic model. The US Federal Reserve still has plans to hike the interest rates, which will mean a further drop off in value for Bitcoin and other cryptocurrencies.Previously, these policy changes would not have any effect on the value of Bitcoin. With Bitcoin becoming more widely accepted and maintaining its position as a standard for other cryptocurrencies, its price is likely to be more correlated with the price of traditional assets like stocks.As a result, any event triggering a decline in price in traditional markets is likely to trigger a similar or greater decline in price for Bitcoin. The drop in the price of Bitcoin provided an opportunity for crypto traders to take advantage of the dip by buying at a lower price level.Among these traders is serving US Senator Ted Cruz, who stated that he recently bought between $15,001 and $50,000 of bitcoin in a transaction dating back to January 25. This positive buying pressure has now resulted in Bitcoin hitting a yearly high of $44,000.Bitcoin's price increase over the past two weeks has restored investors' confidence, and the crypto markets have seen greater buying pressure as a result. Thus, many digital assets have seen a significant increase in value, causing their price to surge. This article analyzes the price movement of a few of the most popular digital assets over the last two weeks.
Ethereum
Ethereum is another crypto asset that has seen its coin price steadily decline over the past three months. This fall in price is mainly down to economic factors that resulted in the crash of the leading crypto asset Bitcoin.Another reason behind Ether's price drop is a decrease in its market share. Currently, many other blockchain platforms deliver similar services offered by the Ethereum platform. However, compared with the Ethereum blockchain, these platforms deliver faster transactions and low transaction fees to their users. As a result, many traders on the Ethereum blockchain have moved to other platforms resulting in a drop in the value of the Ether token.As Ethereum's market share decreases, its $6.2 billion daily transaction average has fallen by almost 55% from its December peak. On average, the Ethereum blockchain now witnesses 5.6 billion transactions per day. Apart from Opensea, a non-fungible token (NFT) marketplace, Ethereum dApps experienced a 28% decline in active addresses over the past six weeks.Despite these concerns, Ethereum has enjoyed some positive price gains over the past two weeks, with coin moving from the $2100 price range to a $3200 price range within two weeks. There will likely be further gains in the coming days with a continued increase in the value of Bitcoin.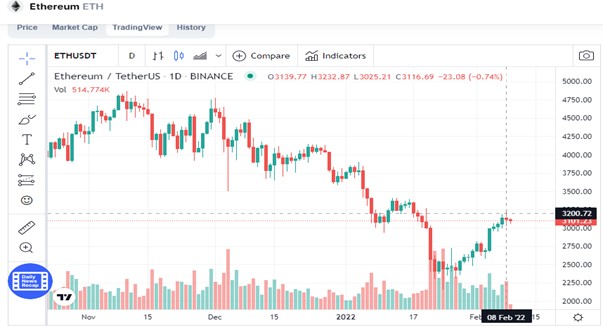 Shiba Inu (SHIB)
The SHIB token is another beneficiary of the recent pump in the crypto markets. Within two weeks, Shiba Inu experienced a 75% increase in its coin price. This is a significant price increase because SHIB experienced a price drop of 80% during the recent crypto market crash.
There are several factors behind the rise in the value of Shiba Inu. These reasons include an increase in buying power by retail investors and crypto whales looking to take advantage of the recent dip in the crypto markets.
Also, a Singapore blockchain solution provider, Unification, announced on Feb. 5 that it has been working with the Shiba Inu community to develop Shibarium. Unification has a solid track record and has forged partnerships with top tech companies like Google and Amazon.
The SHIB dev team announced plans to launch its metaverse called Shiberse. This has resulted in a favourable price value for Shiba Inu. Previously the Shib price hit a yearly low of 0.000017. However, the upturn and favourable news has recently seen the token hit 0.00003520. Additionally, SHIB has reclaimed its $16 billion market cap.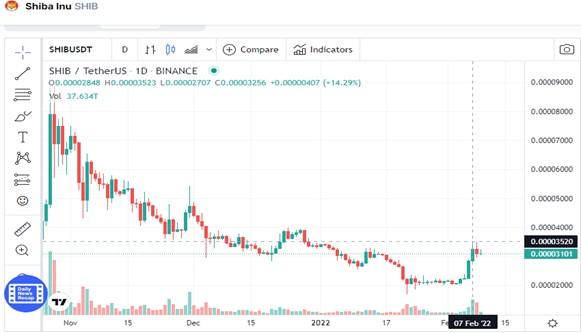 Avalanche (AVAX)
During the recent crypto dump, the AVAX token lost over 60% of its value as the crypto markets suffered a crash. Over the past three weeks, the token has seen a return in value worth up to 75% from its previous lows in January.The pump in the value of this token can be attributed to the massive adoption of the Avalanche blockchain by crypto traders. When writing this article, the Avalanche blockchain has seen an increase in the number of active daily addresses in its ecosystem. Currently, Avalanche process transactions for over 70,000 daily active addresses. A significant change from its previous record figure of 10,000 daily active addresses. The Avax token recovered from its January slump, moving from a yearly low of $53 to $95 within two weeks.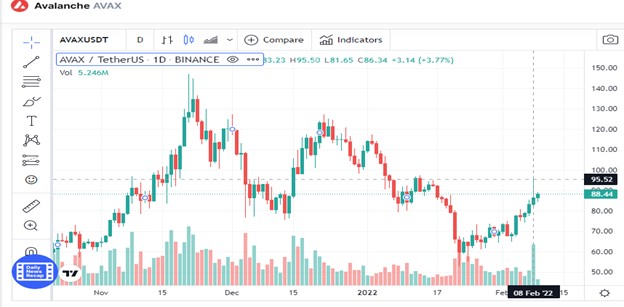 Many other cryptocurrencies have experienced an increase in price due to the latest Bitcoin rally. Among these digital assets are Solana (SOL), Binance Coin (BNB), Cardano (ADA), Ripple (XRP), and Dogecoin (DOGE). We will now consider factors that clearly indicate that we are still in a bull market.
Factors Indicating That The Crypto Bull Run Is Not Over
Many crypto traders believe the bull run is over, and the bear season is just around the corner. Despite these concerns, careful examination of the crypto markets suggests that their opinions may be incorrect. We will examine two reasons why the bull run may not be over just yet.
Big Institutional Money
In the past year, there has been an increase in investment into the crypto space. These investments indicate big financial institutions are beginning to view crypto assets as the best tech investment of this decade. The big money institutions include banks like JP Morgan, Wells Fargo, and Goldman Sachs.Additionally, there has been a gradual acceptance and integration of bitcoin as a currency for exchange by different countries. For example, on February 9 2022, the Russian government and its central bank reached an agreement to create a law accepting Bitcoin as an "analogue of currencies".Similarly, India has created laws designed to regulate crypto assets within its territories. At the same time, El Salvador has made Bitcoin a legal tender. All of this news indicates increased patronage of crypto assets.
Upgrades Ethereum Network
Incoming upgrades on the Ethereum (ETH) blockchain will also ensure the continuity of the current bull run. Ethereum's market capitalization of $370 billion sits very closely to BTC's market capitalization of $822 billion despite majors problems in its network. However, with the successful lunch of its ETH 2.0, the Ethereum blockchain could see additional investment from crypto traders. Currently priced within the $3200 price range, Ether could enjoy more growth and shed off some of the current dependence associated with Bitcoin. All in all, positive improvements and upgrades in the Ethereum blockchain will surely positively affect the crypto markets, thereby extending the current bull run.
Conclusion
Incoming upgrades on the Ethereum (ETH) blockchain will also ensure the continuity of the current bull run. Ethereum's market capitalization of $370 billion sits very closely to BTC's market capitalization of $822 billion despite majors problems in its network.Furthermore, the widespread adoption of Bitcoin suggests that crypto traders can expect to experience a bear market that is fundamentally different from what they usually experience. Consequently, investors are encouraged to take profits when their investments reach certain price levels.