Compared to digital assets like Bitcoin, Ethereum, and Solana, meme coins hold no competitive advantage or use cases. However, you will be surprised at the level of attention some meme coins are receiving from crypto traders and enthusiasts alike. The buzz around these tokens has morphed into the creation of solid crypto communities that support such projects.
Two good examples of meme coins that have taken the crypto space by storm are Dogecoin and Shiba Inu token. These tokens have undergone tremendous growth within a short period and are currently listed on some of the best crypto exchanges in the world.
Like many other meme coins, there are many similarities between the Shib token and Dogecoin. However, there are numerous differences between both projects. To find out more about the similarities and differences between these tokens, we urge you to read this article.
This article will provide a side-by-side comparison of the Dogecoin vs shiba inu tokens under several headings. The article will review history, technology, growth, popularity, among many other topics related to both tokens.
History and Growth of Dogecoin
Dogecoin is an open-source digital currency that Jackson Palmer and Billy Markus launched in December 2013. The coin was initially launched as a joke but has surprisingly gained mass followership among crypto traders worldwide. Exactly two weeks after its launch, the value of the Dogecoin price increased by 300%.
Doge continued to experience growth and reached $20 million market capitalization by December 2014. The coin experienced additional growth during the crypto bubble of 2017. At the peak of that bull run for cryptocurrencies, the Dogecoin price reached $0.018 with a market cap of $2 billion. However, the growth of the coin was stunted with the end of the bull run, and the value of the coin dropped significantly by 2018.https://www.youtube.com/watch?v=fsojnuYSIKs
Dogecoin experienced further growth after the tech billionaire Elon Musk was interested in the Dogecoin project in 2019. The devs team for Dogecoin recently revealed that Elon Musk has been advising them on possible steps of improving the Dogecoin project.
The team further stated that Musk offered to provide funding for the project, but they declined his offer. However, Musk continues to support the project via his Twitter page. As a result, Dogecoin enjoys more growth, with the coin price reaching an all-time high of $0.73 on May 8, 2021.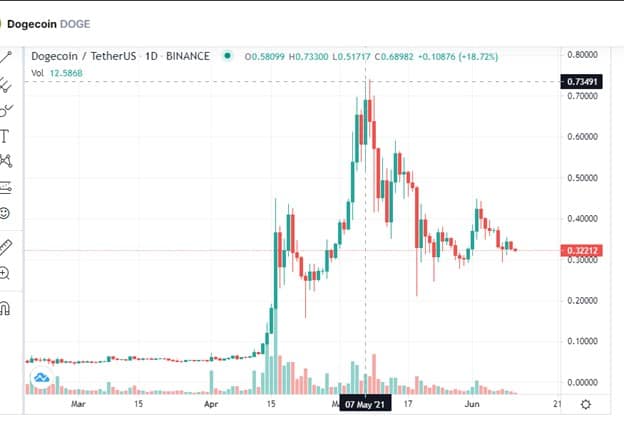 On May 12, 2021, Elon Musk released a statement that stated that Tesla would suspend all vehicle purchases using Bitcoin. This action was because of the increased fossil fuels for mining and powering Bitcoin and Bitcoin transactions. This statement caused a sharp drop in the price of Bitcoin and altcoins, including Dogecoin. Currently, the Dogecoin price is $0.322.
History and Growth of SHIBA INU
Launched on August 2020. SHIBA INU is a meme coin that has the potential to rival top meme coin Doge. This digital currency was created by an anonymous person named Ryoshi and derived its name from the Shiba Inu dog breed found in Japan.
In terms of growth, the Shiba token has experienced amazing growth since the beginning of 2021. From its initial price of 0.000000001, the Shib token reached an all-time high of $0.000050 on May 10, 2021.A major reason for this tremendous growth may be linked to a tweet made by Dogecoin Godfather Elon Musk. Musk tweeted about getting a Shiba pup, and within a short space of time, Shiba Inu coin price rose by over 300%.
This growth was short-lived as Ethereum co-founder Vitalik Buterin donated 50 trillion Shiba Inu coins to the India Covid Crypto Relief Fund. The result of this move leads to a drop in Shiba coin price. The token further suffered a drop in price due to Elon Musk's May 12, 2021, about Bitcoin. Currently, the coin price for the Shiba token is 0.000000673.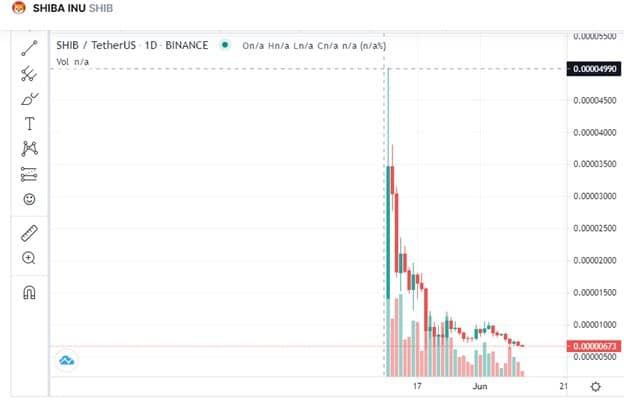 Dogecoin Technology
In terms of its development, Dogecoin shares many similarities with top cryptocurrency Bitcoin. For example, the code used for creating Dogecoin was copied from Bitcoin's code. As a result, both digital assets share the same technology. One major difference between Bitcoin and Dogecoin is the total maximum supply.The maximum supply for Bitcoin is 21 million tokens, while the current supply for Bitcoin is 18,731,768 coins. On the other hand, Dogecoin does not have a maximum supply. However, currently, there are over 129 billion Dogecoins in circulation. Although considered by many to be a meme coin, Dogecoin has been used as a means of payment, especially for small transactions. The advantage it holds over more established coins like Bitcoin and Ethereum is that Dogecoin's transaction fee is relatively low.Due to its close similarity with Bitcoin, Doge uses the proof-of-work system to secure transactions. Dogecoin can be merged mined with Litecoin. Simply put, this means miners who mine Litecoin can mine Dogecoin. Likewise, anyone who mines Dogecoin can mine Litecoin.
SHIBA INU Technology
The Shib token is a fungible token that was created on the Ethereum network. As a result, it is an Erc-20 token that can use smart contracts to create decentralized financial products. Currently, there are over 394,796.00B Shiba tokens in circulation. Furthermore, the total supply of the token is capped at one quadrillion tokens.The devs team behind SHIBA INU is developing a decentralized platform for artists to sell off their NFTs (Non-fungible tokens). Similarly, the devs team is developing a DeFi ecosystem for the SHIBA INU token. Once the SHIBA INU ecosystem is launched, traders can stake their Shib tokens to earn more Shib tokens called Bones. The devs team for the Shiba Inu coin often refers to the token as the Doge killer.
How To Buy Dogecoin and SHIBA INU ?
Like many other digital assets in the crypto space, Dogecoin and SHIBA INU have been listed on many top crypto exchanges. As a result, crypto traders and enthusiasts can buy and sell these digital assets on such exchanges. Doge has been listed on exchanges like Huobi Global, Binance, Okex, Upbit, Bithumb, Gate.io, Bitmart, Kucoin, Wazir x, to name a few.Similarly, SHIBA INU can be traded on 39 crypto exchanges, some of which include exchanges like FTX, Okex, Uniswap v2, Sushiswap, Binance, Wazir x, Poloniex, and Huobi Global.
Projects for Dogecoin vs SHIBA INU


The Devs team for the Dogecoin project recently released a statement stating users should expect a technical upgrade in the coming days. The upgrade aims to provide cheaper and greener alternatives sources of power for the mining of Dogecoin. Similarly, the upgrade will enhance wallet backups, boost synchronization speed, and improve integration. Additionally, Musk tweeted on May 14, 2021, that he is working with Dogecoin developers to enhance the efficiency of Doge as a means for payments.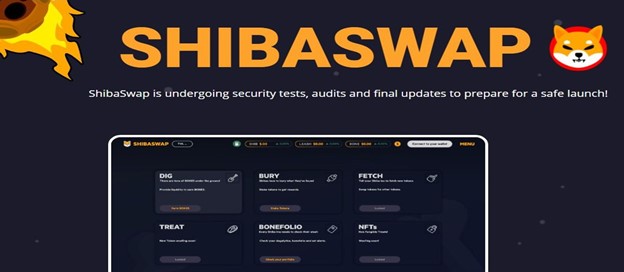 On the other hand, the SHIBA INU devs team is working on launching their Decentralized exchange Shibaswap as soon as possible. The exchange will serve as a platform for artists to auction off their NFTs (Non-fungible tokens). Once launched, the Shib token will serve as the native token for the Dex and can be used to stake and earn rewards from the SHIBA ecosystem. For now, SHIBA investors are encouraging holders to buy more of the token and hold.
Conclusion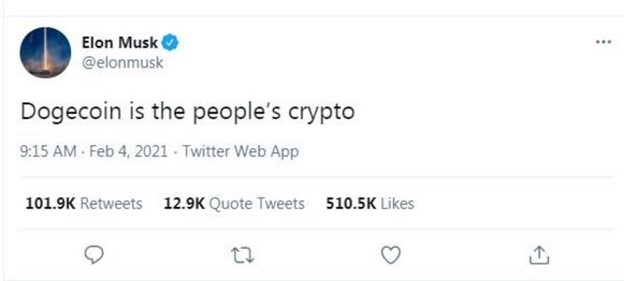 Dogecoin vs SHIBA INU When compared side by side, Dogecoin holds a bigger advantage over SHIBA INU. The interest of tech Billionaire Elon Musk is a major factor, as his tweets continue to drive up the value of Dogecoin.
Similarly, his input into the Dogecoin project will assure many prospective traders of the safety of the Dogecoin. However, with the launch of the Shibaswap, the dominance of Dogecoin over SHIBA INU may fade. While we cannot fully forecast an outcome, we expect to see our users accept and use the projects put out by the devs team for both tokens.