Tether 2022: Stablecoins play an essential role in ensuring stability in the crypto markets. Apart from helping to stem volatility present in the crypto space, stablecoins also serve as a bank for crypto traders. Stablecoins have grown in popularity because traditional financial institutions such as banks have not been as involved in the crypto markets.
However, the fall of the TerraUSD (UST) token has brought attention to all stablecoins in the crypto market. Before its crash, TerraUSD was ranked among the top five stablecoins in the crypto markets. However, this token has become worthless in value despite its previous status.
A digital asset that has come under intense scrutiny since the fall of the TerraUSD token is the popular stablecoin Tether (USDT). As the largest stablecoin, Tether has enjoyed global adoption in the crypto markets. The USDT stablecoin is five times bigger than the TerraUSD token at its peak trading volume.
Despite its current status as the leading stablecoin in the crypto markets, there have been many issues surrounding the long-term future of the Tether token.
This article will discuss some of the problems currently attached to the Tether stablecoin. Our analysis will also include a long-term forecast for this stablecoin. To begin, let us quickly review the Tether stablecoin.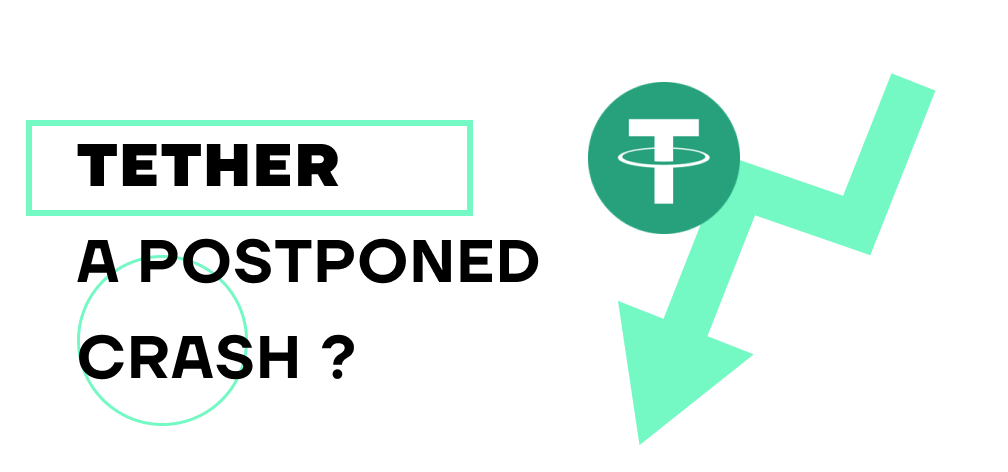 Tether (USDT)
Tether is a stablecoin whose value is backed by the US dollar. Initially launched as Real Coin in July 2014, this token was rebranded as Tether in November 2014 and began trading on the Bitcoin network in February 2015.
Hong Kong-based finance platform iFinex owns the Tether token. This company also owns the popular crypto exchange BitFinex.
At its inception, Tether was only available on the Bitcoin blockchain. However, this stablecoin is now available on the Ethereum, Solana, Bitcoin Cash, Tron, EOS, and Algorand blockchains. Additionally, Tether is available on the Liquid and Bitcoin Omni protocols.
Tether is currently the largest stable coin in the crypto markets. Additionally, this digital asset is ranked third among the five cryptocurrencies globally. However, like many other top-rated digital assets, this stablecoin has had its fair share of controversies.
Controversies Surrounding the Tether Stablecoin
The Tether token's main controversy has to do with its dollar reserves. Many critics of the project have repeatedly questioned the adequacy of Tether's reserves. The team behind this stablecoin claims that all its USDT tokens are directly pegged to the US dollar.
If you believe their analogy, it is safe to say that all USDT stablecoins in circulation have equivalent cash reserves. However, the previous controversies surrounding this project raise doubts about these claims.
Tether fired an accounting firm it had hired to conduct an audit in January 2018, citing "the excruciatingly detailed procedures Friedman was undertaking for Tether's relatively simple balance sheet."
Additionally, the New York Attorney General Letitia James filed an injunction against Tether and crypto exchange BitFinex. The court order was issued after regulators in New York found out that BitFinex had received over $700 million from Tether's reserves.
BitFinex received this loan to offset seized funds from Crypto Capital Corp, its Panamanian banking partner. BitFinex funds were confiscated during a probe into money laundering. The injunction was also issued to further prevent iFinex from violating existing New York laws.
In February 2021, Tether was also involved in another controversy. At the time, BitFinex and Tether agreed to pay an $18.5 million fine to financial regulators in New York. The platform also decided to discontinue trading the stablecoin in New York.
A report on the company's reserves must be submitted to the Attorney General's office over the next two years. During this period, BitFinex had repaid the $700 million loans it obtained from Tether's reserves.
By October 2021, Tether was fined $14 million by the U.S. Commodity Futures Trading Commission (CFTC). In this case, the fine was issued concerning Tether developers' claims that the stablecoin was fully backed by the US dollar.
The U.S. Commodity Futures Trading Commission (CFTC) gave evidence that "Tether held sufficient fiat reserves in its accounts to back USDT tether tokens in circulation for only 27.6% of the days in a 26-month sample time from 2016 through 2018."
Besides the fine, Bitfinex also paid $1.5 million as a part of a settlement with the U.S.Commodity Futures Trading Commission.
Tether Holdings has issued more USDT toke despite these controversies regarding its reserves. In 2021 alone, Tether Holdings issued over 40 billion USDT tokens. Currently, there are over 70 Billion USDT tokens in circulation.
Based on this claim, Tether's current reserve should be equal to $70 billion. If this claim is valid, iFinex Tether's parent company would be among the 50 largest banks in the US.
This claim, however, cannot be verified because most banks that hold Tether reserves are located in the Cayman Islands. Additionally, iFinex Tether's parent company is an unregulated offshore company.
Recent $10 Billion Tether Withdrawals
The recent fall of LUNA and TerraUSD (UST) tokens caused a major downtrend in the crypto markets. Many digital currencies suffered significant drops in price value during the process.
Although Tether did not dip in value, numerous investors in the crypto market withdrew over $10 billion USDT tokens within two weeks. This development saw Tether's circulating supply reduce from $84 billion tokens on May 11 to around $73 billion on May 23.
Speaking after this incident, Tether's chief technology officer Paolo Ardoino considered the redemptions to be a sign of the stability of the stablecoin. In a tweet Paolo noted "We have redeemed 7B in 48h, without the blink of an eye. How many institutions can do the same?"
He further stated"We can keep going if the market wants; we have all the liquidity to handle big redemptions and pay 1:1. Yes, Tether is fully backed."
The withdrawals are the direct result of panic within the crypto markets. However, it is essential to note that institutional investors in the crypto space made most of these withdrawals.
Ideally, these withdrawals should not be a cause of concern among market watchers and crypto traders. However, Tether's shady dealings in the past do not inspire much confidence.
However, Tether Holdings maintains that it has asset reserves equal to the circulating supply of USDT. If this claim is valid, then a run on the bank situation similar to what happened to TerraUSD won't result in investors losing all their investments.
The primary reason for the UST stablecoin downfall was a lack of dollar reserves to back the token. Generally, algorithmic stable coins are not backed with fiat currency reserves.
Despite their claims, there is a strong likelihood that Tether holdings do not have cash reserves that match up with the number of USDT tokens in circulation. In that scenario's eventuality, the recent $10 billion withdrawal portends grave danger for everyday investors in the crypto markets.
Furthermore, institutional investors who have insider knowledge of crypto market happenings made most of those withdrawals.