More than 59% of the world's population relies on the internet for local and international news, staying in touch with loved ones, online commerce, and more. Hence, the demand for exceptional digital marketing solutions is rising steadily. And as people continue their search for highly skilled marketers, digital marketing training courses are also becoming more abundant.This market saturation has made it much harder for professionals to choose the right online digital marketing course.Here is a graph to show how the scope of digital marketing is expected to continue growing over the years, with a prime focus on search engine optimization.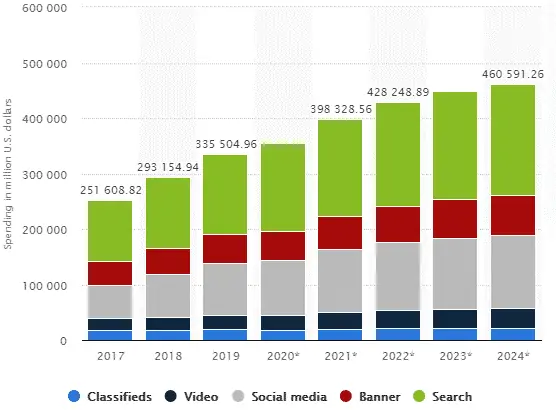 Here, we will discuss the top 6 interesting digital marketing certification online courses that marketers can enroll in to further hone their skills. But before we get into it, let's consider the pros and cons of enrolling in online digital marketing training courses.
Online Digital Marketing Training Courses – Pros & Cons
Pros
Cons
Great career development and future growth prospects – the industry is ever-growing
These online courses often offer certifications
Online courses are often more cost-effective than classroom training sessions
These courses are quick to adapt to algorithmic changes
The more renowned a course provider, the better the chances students have of scoring a higher-salaried job
Some training sessions aren't as interactive as others
Requires self-discipline
Top 6 Digital Marketing Training Courses
1. Google Digital Garage

From data and tech all the way to digital marketing and career development, Google's Digital Garage has it all. It's the perfect starting certification for those of you looking for a free, interesting course. While not all of these courses are free, they're all accredited by Google itself and leading marketers/entrepreneurs of the world. These accreditations are proof that what you learn with the courses within Google's Digital Garage are up to date and worth the investment (both, time and money)
Pros
Cons
Widely recognized and respected
Credible source of up-to-date information
Valuable addition to a resume
Skill-specific courses
You can learn at your own pace
Free and paid options
Face to face courses also available
Very broad. To get specific information, students might have to attend more than one course
1-year certificate expiration for some certificates
2. Content Marketing Institute Online Certification

Wherever there is a discussion of of digital marketing certification courses online, the name of Content Marketing Institute (CMI) is almost always there. It is among the most respected content marketing training course providers via its CMI University.After passing the course exam, students get a life-long digital marketing certification to boast. Depending on whether the enrollee is an individual, non-profit organization, a group, an alumnus, or a company looking to educate employees, the costs will be different.The course offers invaluable insights into content marketing; one of the most important aspects of digital marketing.
Pros
Cons
Well-reputed course provider
Thorough and up-to-date
Extensive discounts for alumnus and corporate clients
Topic-specific tracks also available
Content marketing course only
Expensive for individuals
Specific enrollment period (March–December in 2020)
3. SEMRUSH Academy Digital Marketing Course

SEMRUSH has been widely recognized as a keyword tool, but it also offers other tools and services where it provides complete digital marketing solutions (via partnerships). And then there is the SEMRUSH Academy. Although not a new source of information, it has recently updated its course in line with the latest Google trends and shaped it according to newer algorithms.The course includes essential information about every digital marketing principle you need to be aware of to lead with your best foot; including SEO, Content Marketing, PPC, Social Media Marketing and Affiliate marketing.Topics are broken down into three or four-hour bits to be more consumable.
Pros
Cons
Everything's presented on a platter for students to consume
Numerous complimenting online resources and tools
You get to familiarize yourself with SEMRUSH, one of the leading digital marketing tools out there
Free
Life-long certificate
4. Hootsuite Social Media Marketing Certifications

Hootsuite's social media marketing training course is a great resource for people looking to step into the world of social media marketing, or simply to hone existing skills and delve into its more complicated aspects. For professionals looking to build a solid foundation for their social media marketing career, this course is the way to go.Unfortunately, the online training course isn't free, but the contents within are well worth the cost and effort. Students can find courses about using the Hootsuite platform, social media marketing, social selling, social advocacy, and more.
Pros
Cons
Industry-recognized
Very detailed
Easy to understand
Permanent certification
Paid
Social media marketing training course only
5. Cornell University Digital Marketing Certificate Program

Andy Bernard's (The Office) famous university – Cornell University – offers a complete online digital marketing certification course via its subsidiary eCornell. It's the perfect course for people seeking to get into digital marketing or professionals looking to back their digital marketing resume with an accredited university.This 2-month course takes off with a general overview of digital marketing and then moves on to other frameworks that fall under the scope of this program. It explains digital marketing strategies in great depth, asking students to create (virtual) client-specific digital marketing plans as a means to test their knowledge.
Pros
Cons
University-backed online course
Very detailed course
Life-long digital marketing certification
3.2 CEUs-worth of education
6. Udemy Digital Marketing Course By Rob Percival

Udemy had a pretty good start, went down a bit, but is now coming back to its former glory as qualified teachers return. The course we mentioned above is by Rob Percival that includes 12 digital marketing courses in 1.Once you are done with the course, you get a certificate from Udemy that you can use on your CV – one that doesn't expire. In the course, you learn about:
How to conduct market research for your digital marketing client
How to set up WordPress and start a basic website
SEO (digital marketing)
SEO (writing)
YouTube Ads marketing
Google Ads (PPC, AdWord, etc)
LinkedIn Marketing
In-App Marketing
Email marketing basics
Google Analytics – Implementation and usage
Complete overview of social media marketing
Detail overview of Facebook Ads
The course was priced at $199 but after the recent update (November, 2020) it has been reduced to $129.99. Despite the reputation of Udemy courses, this is one that we can vouch for considering the level of detail provided by Rob and his partners. You also get 10 downloadable resources that you get to keep forever.
Pros
Cons
Extremely detailed
Regularly updated (almost monthly)
12-in-1
Self-paced
Some complain that it is made for the masses instead of individuals