A.I. & Analytics To Optimize Business Operation
The American computer scientist Donald Knuth said, "Premature optimization is the root of all evil" and he probably has something there. Optimization is not something to be taken lightly. It's a long, involved process that requires buy-in from just about every department in an organization. On the analytics value escalator, (see Figure 1) optimization comes near the top, becoming increasingly difficult to attain yet more than worth it for the increase in value it produces. Hard work equates to higher ROI, which is commonly seen in business.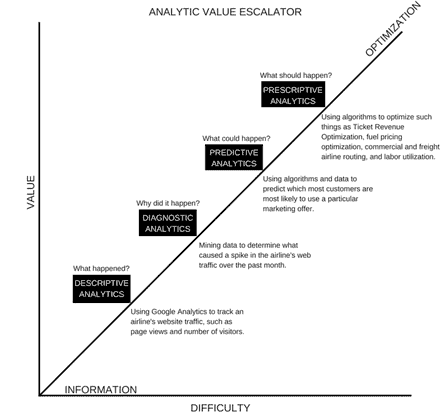 Of the four types of analytics, descriptive analytics is the easiest to build. It simply asks the question "What happened?" by looking at the data. Descriptive analytics consists of doing things like reviewing a company's website traffic to glean statistics like page views and number of visitors. Data not too valuable in its own right, but data that can be the foundation of higher value analytics. Diagnostic analytics asks the question "Why did it happen?". It seeks to uncover relationships in the data. Predictive analytics examines the question, "What could happen?" and predicts future behavior based on historical trends in the data. Prescriptive analytics tries to understand how something happened as well as figure out how it could be made to happen again. This is where optimization thrives, and ROI flourishes.
IBM provides an example of the successful implementation of a prescriptive analytics initiative at a logistics company looking to maximize the utilization of its trucks, trailers, and drivers, while also minimizing fuel expenses, limiting empty miles driven, and decreasing total delivery time says IBM in its
bulk tanker transportation use case
.
Using IBM ILOG CPLEX Optimization Studio, the bulk carrier split the problem into several easily solvable sub-units, reports
IBM
. Results were combined into a single solver that recommended the optimal logistical combination of resources. The final model found "solutions for 1,500 orders, 800 tankers, and 500 drivers with a five-day rolling horizon in less than 10 minutes—a problem space that contains more than 1 billion feasible assignment scenarios," said the spokesperson for the bulk carrier. IBM claims millions of miles were cut from driver schedules and millions of dollars were saved in fuel costs. Driver retention rose, providing additional labor savings.
Use of AI to Optimize Business Operations.
Along with the above four types of analytics, Artificial Intelligence, or AI, is becoming more strategic to businesses. According to the analytics powerhouse
SAS
, AI "makes it possible for machines to learn from experience, adjust to new inputs, and perform human-like tasks." AI programs can sense, reason, act, and adapt. AI is, above all else, a problem solver; give it a business problem, add the variables and constraints or teach it what the desired outcome is, then let the machine learning model work out a solution.
One of the most important system operations tools in use today is AIOps. A combination of the two words "AI" and "Operations",
Gartner
says AIOps is "the application of machine learning (ML) and data science to IT operations problems. AIOps platforms combine big data and ML functionality to enhance and partially replace all primary IT operations functions, including availability and performance monitoring, event correlation and analysis, and IT service management and automation." AIOps utilizes AI and machine learning to manage and enhance operations by improving an IT system's processes, workflows, and data analysis. The goal: accelerate alerting, enhance modeling, promote automation, and catch errors before they negatively affect service.
In his article
How AIOps is already transforming IT
, Atul Soneja explains that the AIOps tool delivers end-to-end, three-dimensional visibility into a company's operations system. The tool also automatically opens tickets, enriches them with important log and/or event information, adds appropriate metrics, then fires the ticket off to the necessary technician. This enhances the system's ability to understand a problem and initiate a solution, almost bringing a self-healing aspect to the system.
According to
CA Technologies
,
"Seventy-two percent of IT organizations rely on up to nine different IT monitoring tools to support modern applications." Beyond the monitoring tools, there is software that handles analytics, BI, CI, cloud integration, CRM, data integration, digital marketing, and security systems, which all have to work in concert together. AIOps tools can spot errors in noisy event streams and mitigate them to create problems. A data-driven decision-making tool that optimizes an IT estate, AIOps can forecast probable future events that might impact availability, performance, and/or problems.
Revenue management or dynamic pricing is an analytics tool that attempts to understand both the demand and supply side of a pricing equation to move a fixed asset, like an airline ticket, a hotel room, a seat at a baccarat or blackjack table in a casino, or even admission to an amusement park at the most optimized price possible to move all product. In businesses facing high fixed costs and an extremely perishable inventory, like an airline seat or a hotel room, revenue management helps set prices at the highest possible threshold to gain maximum revenue.
An industry I work in, the gaming industry, uses dynamic pricing to increase its revenue by raising the minimum bet limits on its baccarat, roulette, and blackjack tables. However, this is an extremely complicated thing to do. The casino needs to have an accurate assessment of multiple facets of its business. It needs to have a strong forecasting model to predict how busy the casino floor will by the day and even the hour. It needs to know customer demand and table seat supply. It needs to factor in any labor constraints of dealers, pit bosses, etc., including time off and/or potential over time; do you extend a shift into overtime or bring in a new dealer for an entirely new shift, including all the cost associated with that?
A breakdown of hourly play would be good as casino games have a demand ebbs and flows. Having data about players would also be helpful as calendars of play can be set up to show potential demand, even potential seating in some cases as many players are superstitious and prefer a set seat when they play. This requires considerable data prep work. However, doubling the minimum price of a table game hand can exponentially increase casino revenue because cost changes little. The property cost is fixed, the dealer cost is pretty much fixed, hand speed can vary depending on how many seats are taken up on a table, but this is a trade-off the casino willingly make for the increase in betting players at the table, especially at baccarat tables where only one hand is deal no matter how many players sit at the table.
Done right, optimization can lead to revenue generation in the millions of dollars for casinos in Macau, which have hundreds of tables across properties. Analytics well worth their weight in gold and Hong Kong dollars.
One of the most ubiquitous of all AI technologies, chatbots are now going mainstream. For Oracle, a chatbot is "a computer program that simulates and processes human conversation (either written or spoken), allowing humans to interact with digital devices as if they were communicating with a real person." There are two types of chatbots – transactional chatbots, which provide customers with a fixed and pre-programmed set of choices, and conversational chatbots, which are much more sophisticated and use AI to communicate with a customer in a natural, human-like way.
Chatbots can interpret a customer's query and help them by answering simple questions, taking orders, offering product recommendations, providing stock detail, purchasing hotel rooms, or even completing a purchase. Simple chatbots are easy but they have limited use. Complex chatbots, however, utilize natural language processes and do everything from utilizing data from social media, IoT, and geolocation sensors. Some chatbots allow users to query databases and provide up to the minute product information. Others help salespeople in the field connect with leads. Chatbots can even be integrated with virtual assistants like Alexa, Siri, Samsung's Bixby, and Google's Assistant.
Chatbots can drive customer engagement, provide cross- and up-selling opportunities, reduce labor needs, increase customer service efficiency, provide customer recommendations, and improve the overall customer experience. Chatbots easily integrate with messaging apps like Facebook, Messenger, WhatsApp, WeChat, Line, Telegram, Viber, Twitter, and even services like Slack, which are the channels today's users prefer. By utilizing these messaging apps, businesses can instantly connect with their customers, therefore optimizing the marketing process.
SEO : Search Engine Optimization
In his article How to use AI for link building and improve your search rankings, Kevin Rowe claims that "AI's applications in the search engine optimization (SEO) world are continuing to expand to new horizons." While Rowe admits no software exists that can leverage AI to build those all-important backlinks, brands can still use AI for data collection and site analysis to help in the link building process. NLP tools help determine if sites are contextually and keyword relevant. AI can also determine if a particular webpage affects search rankings. Rowe also believes AI can be used to augment and automate processes. Although link building can't be made into an automatic process, AI can augment human processes to help influencers, whose backlinks could be instrumental in raising a website's SEO rankings.
Currently, just
one in three Google searches
leads to a click, and these are the people who have a decent idea of what they want. Visual search becomes a friction-free exercise that should increase sales. "If a picture is worth a thousand words, visual search—the ability to use an image to search for another identical or related visual asset—is worth thousands of spot-on searches—and thousands of minutes saved on dead-end queries," says Brett Butterfield in his Adobe blog
See It, Search It, Shop It: How AI is Powering Visual Search
.
For Butterfield visual search can become a big part of the consumer's shopping habits. Visual search allows buyers to bypass all the guesswork in buying online. One need only snap a picture of an item one likes, upload the image to an eCommerce site that has visual search, and voila, the exact item pops up in search.
"Powered by AI, the machine sees, interprets, and takes the visual cues it learns from people. After applying metadata to the image, AI-powered visual search systems can dig through and retrieve relevant results based on visual similarities, such as color and composition," explains
Butterfield
.
The American computer scientist Donald Knuth was correct about trying to optimize before a company is ready to go all-in. As shown in the above Figure, optimization is at the top of the chart for a reason. It is best accomplished when the three analytic steps below it have been fulfilled before. Data needs to be collected, analyzed, and predicted before optimization leads to impressive ROI.
Companies can optimize business operation in a multitude of ways. Optimization isn't just for revenue management, although it does work as well on pricing for hotel rooms, airline seats, and amusement park tickets as it does for casinos table games minimums. Optimizing a company's IT estate is probably one of the best things to do to ensure operations are functioning efficiently. Optimizing equipment with predictive asset models can also ensure parts don't fail and unexpected stoppages are minimized. Optimizing the labor schedule around forecasting models will help cut down on wasted expenses. Optimization isn't easy to do but it is well worth it. Analytics and AI should be leading the way. Today, we are in the age of AI and this game-changing technology will only produce the impressive ROI results you are looking for if you get in the game now.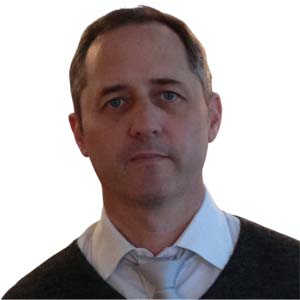 Andrew Pearson is the Founder and Managing Director of Intelligencia Limited, a leading implementer of AI, business intelligence, customer experience, data integration, digital marketing, and social media solutions for the gaming, finance, manufacturing, travel, and retail industries. He has written a number of books on these subjects, as well as penned articles for such publications as Forbes ME, ComputerWorld HK, the Journal of Mobile and Social Media Marketing, The Mobile Marketer. He is also a sought-after speaker and is developing an AI and esports curriculum with colleges in both the US and Asia.