Last year Facebook, google, twitter released the dark mode to reduce strain in the user's eye and also proven that it reduces the battery consumption. After several months of testing on WhatsApp has released dark mode and it is available for iOS 13 and Android 10.
WhatsApp has focused on research and development on two main parameter Readability and information Hierarchy.
"Readability: When choosing colours, we wanted to minimize eye fatigue and use colours that are closer to the system defaults on iPhone and Android, respectively. Information Hierarchy: We wanted to help users quickly focus their attention on each screen. We did this by using colour and other design elements to make sure the most important information stands out." WhatsApp
How do we activate the dark mode in Android phones
Android 10 Users
Go to setting
Select display
Click theme
Choose Dark
It activates system level dark mode.
Android 9 and below
Follow : WhatsApp Settings > Chats > Theme > select 'Dark'.
Dark mode gets activated
How do we activate the dark mode in iOS 13
Go to settings
Click display and brightness
Enable dark appearance
Apple provides a cool feature to switch between Light and Dark modes based on the time of day; Users just need to turn on the switch next to Automatic to the green ON.
POINT TO NOTE: WhatsApp dark mode is not available for the lower versions below iOS 13
After the launch of dark mode, social media erupted with mixed reaction
Apple smartphone users with iOS 13 started to express their displeasure because the much-awaited dark mode is not available on their phones.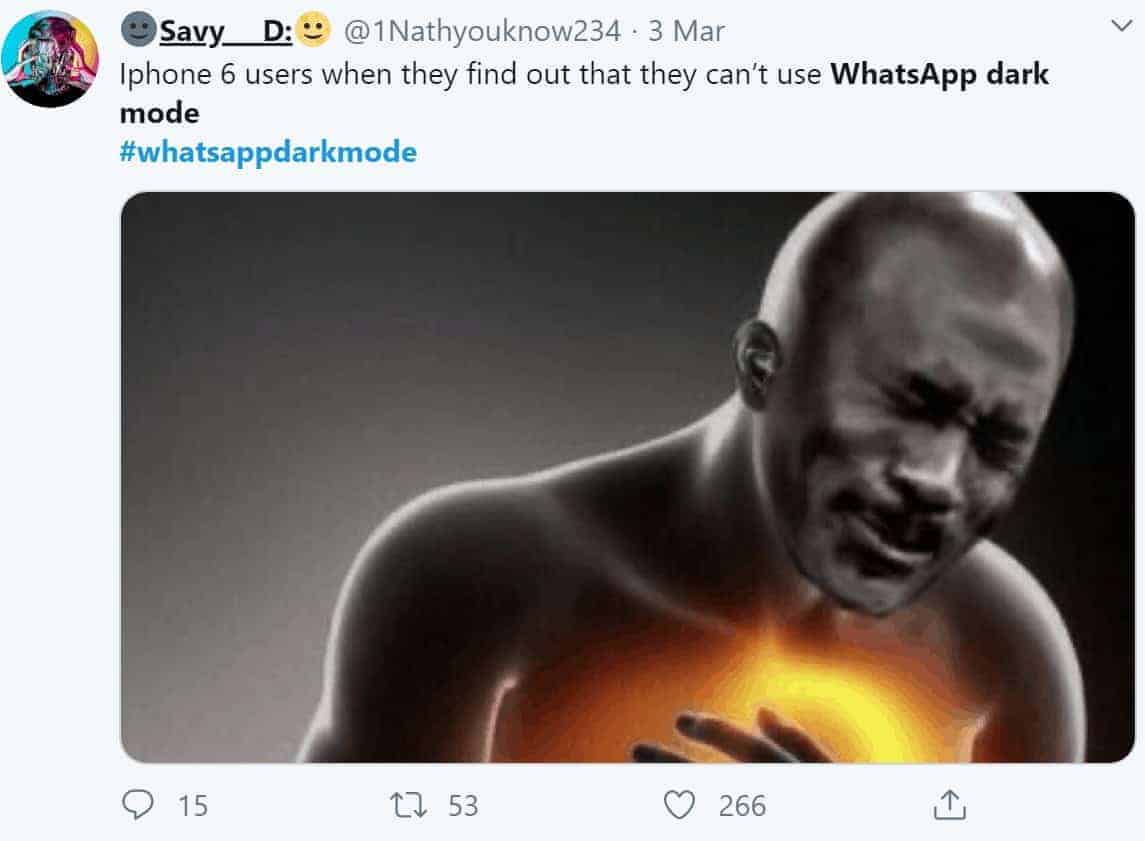 An android user with lower version android expressed angry about WhatsApp with a tweet saying "Do you know WhatsApp is sick do you know? You won't be able to use the dark mode effect until your phone android version is 10.0….."
The smartphone users expressed on social media their frustration about the WhatsApp dark mode mostly because the dark mode is available on a higher version of the operating system. Let's hope WhatsApp makes it available for all other versions shortly.
Nonetheless, Dark mode feature is on the new option that we see in multiple platforms like Facebook, Chrome, youtube and many more. I use dark mode on Chrome and youtube because it looks more excellent and reduces strain in the eye.