The healthcare industry has unquestionably significantly benefited from technological advancements and health innovations. Although already in use, the current Covid- 19 pandemic has pointed to the need for increased adoption of technologically driven health innovations.
As an aftereffect of the pandemic, most of the world's population are now more conscious of their health. A significant factor behind the increased awareness is the global health restrictions imposed by medical practitioners due to the pandemic. Due to these restrictions, health tech innovations like e-pharmacies, digital systems, and virtual consultations have become more popular.
Covid vaccines have helped stem the tide in the wake of the pandemic, allowing many people to return to their everyday lives. Despite returning to normal activities, many still expect to enjoy the health tech features available to them during the pandemic.
This article will consider some of the best health tech features deployed for the health care system over the past few years. Additionally, we will look at the present problems facing the adoption of technological innovations in modern health care. Finally, we will some of the available opportunities for investors within the Health care space.
What Is Healthtech?
Healthtech has grown to become an important part of the healthcare sector. This term is used to describe all technology-enabled healthcare services and products provided or implemented outside a physician's office or a hospital.
Healthtech also includes healthcare IT technologies and digital health that have been developed outside of health care but are now finding application in it. However, technological features do not qualify as healthtech products if they cannot be consumed or used outside a hospital. As a result, hospital software and practice management software do not qualify as healthtech products.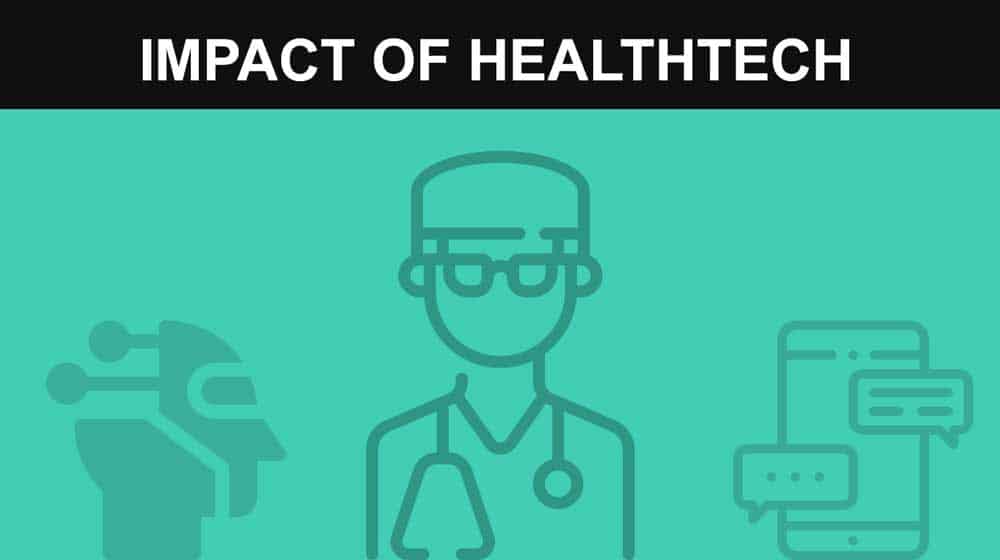 Apart from delivering healthcare services and products, Healthtech firms can also offer information and mobility technologies. Leveraging on new technologies, healthtech firms aim at improving the quality of healthcare services offered to patients. As a bonus, most of these services are provided at affordable rates.
Despite being technology-based, Healthtech products come in many forms. Some popular tech products used in the healthtech sector include nanotechnology or 3D printing, blockchain technology, digitization & electronic records, smartphones & applications, machine learning / AI, data security & encryption, to name a few.
It is important to note that healthtech is not only geared towards improving the quality of healthcare provided by medical practitioners. It is also creating new ways of dealing with chronic health problems and mental health.
Health startups have developed digital products that assist women in monitoring and managing their gynecological health. These products also help its users to track fertility. Additionally, cosmetic apps utilize augmented reality to demonstrate how users can change their appearance. Despite the huge potential of healthtech, several challenges are currently facing it.
Current Challenges Facing Healthtech Sector
Adoption has been one of the primary challenges facing the healthtech sector. Before the Covid 19 pandemic, healthtech products and services were primarily available at private hospitals and medical facilities.
The adoption of healthtech by privately owned medical facilities has been seamless. In contrast, publicly owned hospitals require approval from regulators, government officials, and private insurers before adoption can occur. So far, only a handful of public medical centers use or offer healthtech to their users.
In light of the benefit it offers, there is a need for massive adoption of healthtech worldwide. Due to the digital transformation already available in most European countries, it can serve as the perfect location to fully implement technologies associated with healthtech.
Some government officials, regulators, and private insurers located in Europe are currently working on implementing new healthtech products for their citizens. In the long term, we expect to see massive changes in the style of healthcare offered to Europeans.
Another challenge facing this industry is financing. However, this industry's problem is not a lack of finances but the distribution of available funds into the wrong projects. This challenge has led to poor funding for the right and most beneficial healthtech projects.
Creating a long-term financial plan for healthtech products is essential to overcoming this challenge and maximizing the potential benefits of the sector. It is also imperative that funds are routed to the correct places promptly and that these resources are distributed equally.
In a statement released by digital and tech consultant Martin Bell, he suggests that the NHS can tackle the issue of poor financing for healthtech by developing a "comprehensive, long-term, sustainable NHS and social care digital funding settlement, to reduce complexity, drive appropriate uptake, usage, and delivery across health and care."
Impact of Healthtech In Health Care Delivery
Despite its limited adoption globally, health tech has helped to revolutionize health care delivery. Several exciting innovations have improved the quality of health care provided to patients under modern medical practices. This section of our guide will cover some of the most popular healthtech sectors and products developed within these sectors.
Assistive Technology
Assistive tech has been in use for a long time to help persons with disabilities lead meaningful lives. Despite this, the integration of new technologies into the healthcare sector has led to the development of several products which are designed to assist, increase, or maintain the functional abilities of persons with disabilities outside of the hospital.
These products are built using emerging technologies like AI, robotics, and VR/AR. They aim to provide more compelling options for individuals with disabilities. AI-powered assistive tech includes cognitive hearing aids, smarter glasses, sign-to-text devices, and AI-based visual aids.
Neurotechnology
Neurotechnology devices are designed to help medical practitioners better understand their patients' thought processes, consciousness, and brain functions. Healthcare industry companies are developing cutting-edge gadgets to help healthcare workers remotely monitor patients' brain functions.
Leveraging on advancements in medical technology and emerging tech, these companies are developing implantable devices, neuromonitoring devices, neurostimulation, neuroprosthetics, and brain-machine interfaces.
AI-driven Medical Research
Healthtech organizations in this field are leveraging artificial intelligence to research and develop drug therapies and new pharmaceuticals that can be administered remotely by patients. Medical researchers can quickly sift through millions of chemical compounds and identify the most promising ones using artificial intelligence.
Mental Health Tech
A mental health technology company develops software and hardware to help individuals improve their mental health. The devices produced by these platforms are also valuable to medical practitioners. Healthcare workers can use these devices to monitor the mental health of their patients.
Due to the recent pandemic, there has been a recent increase in the demand for gadgets produced by mental health start-ups. Mental health devices include fitness gadgets, fitness apps, meditation apps, wearables.
Sleep Technology
Sleep technology focuses on using a variety of technologies with the express aim of improving a person's sleeping quality. Despite being overlooked, sleep tech products help improve the health of their users.
Many sleep technology products are on the market, including smart mattresses, sleep monitoring headbands, and tracking sensors. The products included in this sector are all suitable for use outside of medical facilities.
Conclusion
The healthtech sector offers several IT based products and services designed to offer optimum healthcare to its users outside hospitals and medical facilities. Leveraging on emerging technologies, many healthcare companies are innovating healthtech products that will soon change the system of administrating medical care globally.
At present, the healthtech sector suffers from underutilization of its products and services. Several factors contribute to this problem, such as poor adoption practices by medical practitioners and poor distribution of funds for innovation. While these issues exist, there are signs that point to a future in which several healthtech products will be adopted. When that happens, medical pratitioners and end users will be able to benefit from the full potential of the healthtech sector.