Thursday, February 25, 2021, the Fantom coin reached its all-time highest price- $0.67 since its establishment in 2018, scoring 6 points in the markets, with a safety rank of 5.87. The surge started on 1st February, and has been rising ever since.
What accounted for this? Simple!
The Fantom Foundation
started providing more updates about their business, partnerships, and innovations. These updates are not only strategic, but they are calling the attention of users and prospects, and these factors will propel FTM to $1 before the end of 2021.
31st December 2020, Tixl Finance announced a partnership deal with Fantom. Through this, investors can locate all Fantom related information and AI-powered ratings. This is a crypto data platform that provides fundamental analysis for digital asset data. The partnership with FTM has increased the visibility of the coin, which has contributed to people buying it one month later.
In January, Fantom collaborated with DABS, Afghanistan's national electricity company to promote transparency, digitization, and disintermediation by using Fantom's blockchain-based decentralized system for automation, easy data access, and cutting off overcharges by third parties, respectively. Through this partnership, Fantom showcased the potentials of its blockchain-based solutions, which captured the attention of other enterprises and individuals.
Since then, Fantom has made several upgrades, partnerships that have accounted for its 800% surge and will continue to increase until reaching $1 sooner than we think. Here are some other examples:
In January 27, Fantom made a giant step in the US market by partnering with Coinbase Custody, a highly trusted digital assets custodian. This provided safer FTM investments and opened the coin to wider audience of institutional investor.
In the same month, Ledger collaborated, adding support to Fantom so that native FTM (Opera FTM) could be safely stored on users' Ledger Nano S and Nano X wallets.
UniLend integrated, in February, the synthetic assets of FTM and Fantom, which has permitted users to use fUSD and rEUR on UniLend. This way, there is deeper liquidity, increased capital efficiency and other possibilities the Ethereum-based lending platform.
In the first month of the year, Fantom announced an on-chain governance live feature that would promote transparency, a developed FTMScan, a new Fantom explorer and aBFT.
The governance live feature has helped the organization collect ideas for system improvement. It is also, this means, supporting their investors and building a strong community.
The FTMScan platform is the Fantom blockchain explorer where one can navigate the site that enables real-time provision of statistics for well-informed decisions for profitability.
With its scalable aBFT, there is an endless possibility to power real-world applications, smart healthcare, DeFi, supply chains and real estate tokenization in a cheaper, efficient and more transparent way.
Fantom announced on January 25 and February 2 their listing on Sushiswap and 1inch Exchange, respectively. With these, users can now provide liquity for and trade FTM, even on Ethereum
DeFi products can now be found on Fantom, new assets like ERC-20 token contracts are coming into Fantom and a multichain bridge between Fantom,
Ethereum and other chains
was launched last February that has resulted in the reduction of transaction costs and confirmation time.
With a continuously growing ecosystem and new farming opportunities like Spooky Swap and Spirit Swap, Hyper Jump BSC, and NFT Gem on April 27, Fantom, for the time, breached its highest daily transactions of 150,000 txs. Predictions say this will continue to grow See chart below.
On average, users spend about $0.0001 or 0.005 FTM per transaction. A good example to prove this is an address who made close to 50,000 transactions in the last two months and only spent a total of $7.6 in fees.
The Fantom platform has added a Governance feature, which has significantly improved participation levels of the FTM community. Here, anyone can easily submit their opinions on how the system can be improved and this will be considered. This community has been so supportive to the extent of bringing in more people into the system in the last two weeks. This has resulted in the Fantom reaching AltRank top 1 on Lunarcrush. If this community continues this trend, FTM will in no doubt witness exponential growth in users and price to $1 and more by the end of this year.
Fantom FTM Price Prediction For 2021.
As Fantom continue to innovate, build sustainable partnerships with governments and businesses, support people, receive endorsements and attract major invest, there will always be significant growth, which will see its price probably, exceed $1 this year. Most recent smart moves that will quicken this ambition are:
As Fantom continue to innovate, build sustainable partnerships with governments and businesses, support people, receive endorsements and attract major invest, there will always be significant growth, which will see its price probably, exceed $1 this year. Most recent smart moves that will quicken this ambition are:
On April 27, 2021, HyperChain, a leading global digital assets management company announced a $15 million investment into Fantom's stake ecosystem through the buying of FTM. HyperChain's CEO and founder Stelian Balta said, "Fantom remains one of the most exciting and innovative projects in the industry. We're impressed by the constant technological advancements and the expansion of business development in Asia to tackle real-world issues."
Innovating with Go-Opera on April 20, which has significantly improved reliability and network performance.
Growth in addresses: On Tuesday, March 23, 2021, Fantom recorded its highest increase of 16,853 new addresses in just two days. The Total Distinct Addresses that day was 40,375. It has continued to increase, and as of April 28, it was at 76,679. See chart below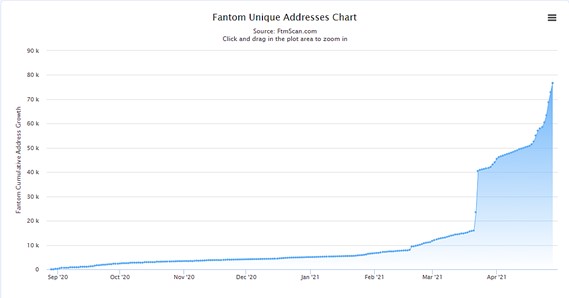 Increasing transactions: As of April 28, 2021, more than 2.6 billion transactions were found on the FTMScan dashboard, with a ground record of the highest number of 205,978 transactions that Wednesday. See chart below. This can only translate to the fact that users are increasing as well as farming and minting.
Some technical analysis say there is a $1.5 price forecast for Fantom this year. Why so? Look at the below chart.
A Twitter user, ant47762300, posted the above intriguing chart on March 3, 2021, and used Fibonacci Levels, a widely known technical analysis tool to make the prediction. The chart demonstrates trends of that time as well as FTM's price growth rate to deduce its future price tag. This was before the announcement of HyperChain's investment and other innovations brought to the system. The chart showed that if the price continued increasing, we would be looking at $1.6 in the coming months if the bull market persists.
Though FTM's price has changed since February ending when it was close to $0.67, the above Twitter user is not the only one who thinks this is possible. A crypto Researcher, Ryan Matta does, on his YouTube channel, and in-depth analysis of the coin's development and concludes with Fantom's strong technologic principles, there could be a fast growth, which will catapult its price to $3.00. Though this might be quite ambition and somewhat unrealistic for some, it doesn't change the point of many users knowing that a price increase is possible to a reasonable $1 by the end of this year, even as a disappointment slow growth.
To sum up, Why you should look into $FTM? Simple! They have ultra-fast transaction speed, miniscule transaction fees too, live government projects, NFTs, all-in-1 DeFi Suite, F1 sponsorship, continuous innovation, it is better than #BSC, it has the support of Andre Cronje, DeFi architect, more than 30 partnerships and it is still only $0.8bn market cap. With more surprises from the Fantom team, it is no doubt that more users will be interested in just joining the Fantom community, same with bid investors, which will make FTM a great short and long term investment opportunity for cryptocurrency users. Many experts predict that Fantom will have a remarkable winning number in the 2021 crypto bull run with its price reaching and surpassing $1.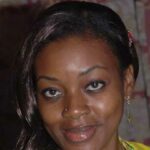 Monique is a crypto writer, graduated in journalism and translation, a former editorialist in the national press.